It's hard to believe that this was Team steveworks' 16th year participating in the Bike MS: Cape Cod Getaway, which took place last weekend, June 29-30. When I describe the grueling ride to people – especially last year's ride in blistering heat or the INTENSE thunderstorms that started our first day this year – they sometimes find it hard to believe that I actually look forward to riding 150 miles every year. I view the ride as an honor – one that enables me to do something proactive for the people who have been diagnosed with this debilitating disease.
My mother has had MS for many years so I understand how it can impact every member of a family. Having Multiple Sclerosis means that you may suddenly have blurry vision, or that your memory will fail you for no apparent reason. Other symptoms may include not being able to walk, let alone ride a bike (that's another reason it's an honor to ride – I'm grateful that I'm physically able!). The symptoms of MS are different, and devastating, for everyone and it's sadly a very common disease.
Because of the Bike MS: Cape Cod Getaway and other fundraisers, more drugs and therapies are coming into the mainstream of care and they will hopefully become more affordable. It is so comforting to talk with folks who have MS and say that before the new drugs were developed, they had little hope of reducing the symptoms of MS. For this reason, I'm very glad to support MS and I hope you will as well.
About the Ride
Bike MS: Cape Cod Getaway is a two-day, 150-mile ride, and is the largest MS ride in New England. Beginning on Saturday morning, June 29th, more than 2,000 riders rode from Quincy through the coastal towns of Massachusetts' South Shore to the beginning of Cape Cod. We got off to a later start than usual due to the torrential rain and thunderstorms, but that didn't keep me from achieving my personal best time for day 1! All the training and the cooler weather this year certainly helped.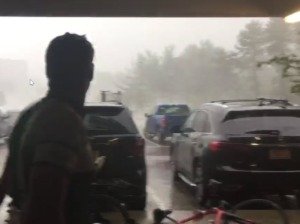 You won't believe the rain and wind before the ride!
We ended day one at the Massachusetts Maritime Academy in Bourne where we were welcomed with music, great food and maybe even a beer or two. At 5:15 Sunday morning, we crossed the Bourne bridge and rode through picturesque Cape Cod stopping for an early "lunch" at 8:30 am and 45 miles into the days' ride. After I crossed the finish line in Provincetown at 12:45 pm I was dismayed (but not surprised) to learn that Ari and George had actually rolled in an hour ahead of me!
Thanks to the generosity of friends, neighbors and clients our team raised $14,600 this year! If you didn't get a chance to contribute, but would still like to, we'd be grateful!