"Paying it Forward" is important to our family remodeling business. One of the best ways we can achieve that goal is to help foster the next generation of remodelers. Each year, I spend a satisfying day volunteering at Youth Remodeling Career Day working alongside many of my fellow Professional Remodeling Organization members. Everyone comes together with one goal in mind: to introduce fundamental building and remodeling skills to students in hopes of sparking a greater interest and passion for our industry.
This year we welcomed nearly 500 students from technical high schools across the state and region to the Bolton Fairgrounds in Lancaster. Youth Remodeling Career Day gets better and BIGGER each year.  I'm impressed that we're seeing a lot more teens—including a large percentage of young women—who are considering a career in the trades. The beauty of this event is that it allows students to get a hands-on look at many different career options including framing, plumbing, HVAC, electrical, landscaping, architecture and design—to name just a few. There were stair riggers, electrical switches, mitering, and even a playhouse being built to donate to an area charity.
One of the most valuable experiences that the students take part in are mock interviews. The teens have an opportunity to talk one-on-one with business owners to practice their interview skills and learn how to present themselves—something that will come in handy no matter where their careers take them.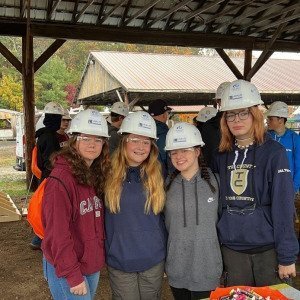 I saw a lot of potential at Youth Remodeling Career Day! I've even got my eye on a couple of students who would one day make a great addition to the steveworks team!